Are you worried about the constant buffering and lag due to your Wi-Fi issues? Isn't that exciting to know about Wi-Fi 7 and its related information in one place/platform? Why not? Here you can find resourceful information about Wi-Fi 7.
Wi-Fi 7 is the upcoming Wi-Fi standard, also known as IEEE 802.1. This is known as Extremely High Throughput (EHT). It can work efficiently across three bands (2.4 GHz, 5 GHz, and 6 GHz) to fully operate spectrum resources. Whereas the Wi-Fi 6 was built in response to the growing number of devices worldwide, Wi-Fi 7 aims to transport at amazing speeds for every device with superior capability. At the same time, those constant buffering, lag, or congestion can be handled effectively using Wi-Fi 7 router that can give you the best solution.
Wi-Fi 7 introduces 320 MHz ultra-wide bandwidth, 4096-QAM, Multi-RU, and Multi-Link Operation to provide speeds 4.8× faster than Wi-Fi 6 and 13× faster than Wi-Fi 5. In addition, unlock more scenarios than ever before.
Other words
Wi-Fi 7 is officially termed as IEEE 802.11be Extremely High Throughput (EHT), an upcoming generation of the 802.11 IEEE technical standards to implement with the support of wireless local area network computer communication.
Concerning the technical name suggestion, the standard will bring huge gains when it is available. Furthermore, it is highly supported, theoretically reaching up to 40 Gbps. Hence, the average Thunderbolt 3 hardware interface can be managed.
Who needs Wi-Fi 7?
Generally, Devices that can utilize Wi-Fi technologies may include desktops and laptops, smartphones and tablets, smart TVs, printers, digital audio players, digital cameras, cars, and drones. Wi-Fi can be versatile in the IEEE 802 protocol family and is considered to interwork flawlessly with its wired sibling Ethernet.
Other than that, we have the list of users as per the future trends:
Pioneers of Tomorrow- Who can experience the most cutting-edge technology
Future-minded Entrepreneurs- Can get the most- efficient and fluid work experiences using Wi-Fi 7.
Lifestyle Reformers- Can work best on Smarter and more powerful home networks.
Professional Technicians- Supports learning and researching the latest technology and products accordingly for the growth of technology.
Enterprise IT Ops- This can fetch you more economical and advanced solutions.
Gamers- This can get you Unparalleled gaming experiences.
What is TP-Link Wi-Fi 7 Technology
TP-Link, a leading global provider of consumer & business networking products, revealed a complete Wi-Fi 7 networking solution, especially for home and enterprise networking. Additionally, Aginet Wi-Fi 7 routers for the ISP market were added to the CES list.
TP-Link is at the forefront of Wi-Fi 7 by unlocking the potential of what's possible with this cutting-edge technology. In accordance with the world's first vendor releasing a full Wi-Fi 7 product line mainly for home, enterprise, and ISP networking markets, TP-Link held a Wi-Fi 7 Product Launch Event on Nov. 14, 2022. During the event, three Wi-Fi 7 routers, one Wi-Fi 7 Gaming router, three Deco Whole Home Mesh Wi-Fi 7 products, two Omada access points for enterprise networking, and Aginet Wi-Fi 7 for the ISP market were unrestricted.
At CES, TP-Link extended their Wi-Fi 7 lines to include Wi-Fi 7 range extenders. Various Wi-Fi 7 models were also revealed, with 5G Wi-Fi 7 routers, XGS-PON Wi-Fi 7 routers, Wi-Fi 7 routers, and Whole Home Mesh Wi-Fi 7 that covered all from TP-Link's flagship products to their entry-level Wi-Fi 7. These Wi-Fi 7 products were well received. Archer GE800, a BE19000 Tri-Band Wi-Fi 7 Gaming Router, and Deco BE95, a Deco BE33000 Whole Home Mesh Wi-Fi 7 System, both have won the 2023 CES Innovation Awards.
When Will Wi-Fi 7 Be Available?
The first Wi-Fi 7 devices and routers might start rolling out early in the year 2023. While you won't feel the usage of Wi-Fi 7 router until you have Wi-Fi 7 devices, due to the new Wi-Fi 7 routers being backward compatible, they may ensure about the people currently since a luxurious Wi-Fi 6E system, as they might be able to handle 6E connections but also have the funds for some future-proofing.
TP-Link has declared a whole Wi-Fi 7 router product line that may include the flagship quad-band Archer BE900 ($700). It can get support from a distinctive X-shaped design with a customizable LED grid and a touchscreen. It boasts two 10 Gbps ports, four 2.5 Gbps ports, and a mutual speed across bands of up to 24 Gbps (the 6-GHz band extends up to 11 Gbps, and you may find two 5-GHz bands and a 2.4-GHz band). The company can also unveil the Archer GE800 Gaming router and three Deco mesh systems (via the headlining, Deco BE95 will cost you a whopping $1,200 for a 2-pack).
On the other hand, Qualcomm consists of a Wi-Fi 7 chipset and the Networking Pro Series platform, which can deliver up to 33 Gbps of quad-band connectivity over 16 streams. Partners were previously working on integrated technologies as per the devices. Broadcom and MediaTek can also be considered & announced as Wi-Fi 7 technologies. More retailers will undoubtedly proclaim their plans in the coming months as the new standard is compressed up and formally elected by the Wi-Fi Alliance.
Even though the Wi-Fi 7 does arrive, it's not getting sweep Wi-Fi 6 away. Instead, these two will probably coexist as balancing technologies for numerous years.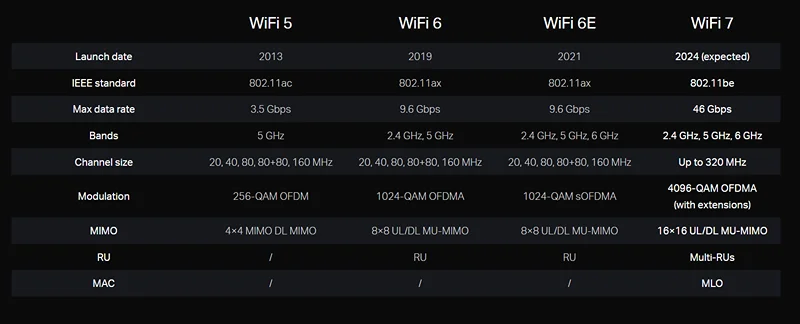 Advantages of Wi-Fi 7
The Wi-Fi 7 standard will also be expected to get support regarding the new features that include:
320 MHz channel bandwidth: It consists of a huge width of the 6 GHz bands; Wi-Fi 7 can use 320 MHz wide channels for huge throughput gains.
Multi-link capabilities: Improved multi-link capabilities of the Wi-Fi 7 standard can allow instantaneously broadcast in both the 5 GHz band & the 6 GHz bands.
Multi-Access Point (AP) coordination: Whereas the latest Wi-Fi standards might not allow routers to perceptively communicate their channel settings to attain the most competent allocation of radio resources possible, Wi-Fi 7 can do so.
Time-Sensitive Networking (TSN): This technology creates a facility to synchronize to a primary clock across the network for massively enhanced low-latency transmission.
4096-QAM (4K QAM): Wi-Fi can interpret digital packets into an analog signal more competently due to its high QAM (Quadrature Amplitude Modulation).
Whereas these and other features can give you ground-breaking speeds and ensure it has a great signal strength even in highly congested areas.
Wi-Fi 7 Tech Reference Video
TP-Link Wi-Fi 7 Product
Conclusion
Wi-Fi 7 is not yet available, but it's approaching us very soon. When it arrives, it will support in an era of Thunderbolt 3-level wireless speeds, allowing you to do the things you love to implement via online even more suitably. Hence, using a whole new category of devices, like augmented and virtual reality headsets.